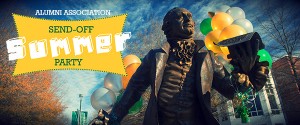 Never too late to decide to attend!  This event is a great event and opportunity to meet fellow alumni and students from RVA, as well as, to pick up a free MasonRVA t-shirt .
Thursday, Aug. 3
7 – 9 p.m.
Bottoms Up Pizza
1700 Dock St, Richmond, VA 23223

CLICK HERE TO REGISTER

New students, families, and alumni are invited to a summer send-off in Richmond on Thursday, Aug. 3 at Bottoms Up Pizza. This casual get together is a great opportunity to meet and get to know incoming Patriots, parents, and alumni from your region!
Attendees will enjoy dinner, refreshments, and remarks provided by the George Mason University Alumni Association.  Please pre-register and indicate your commitment to attend, which will help us plan for food.
Parking Information
Free street parking is available and there are two nearby pay-to-park lots (less than a block away).
The Main Street Train Station lot is free for the first hour, and $1 per additional hour (with a $5 max). This is located between Main and Cary across the street from the train station. There is another paid lot across Cary Street (between Dock and Cary) from the Main Street Station Lot.
Stay connected to Mason Alumni in Richmond
Learn about the Mason Admissions Volunteer Network
Upcoming MasonRVA events…
Alumni Charity Challenge
Thu, Sep 14, 2017 5-8:30pm
Hardywood Park Craft Brewery
MasonRVA won the challenge the first two years.  This is the 5th annual event so there is time for Mason to reclaim bragging rights!  Stay tuned for more information.  The rules have changed this year!
Rob.