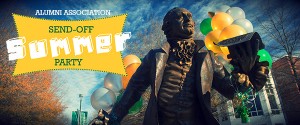 If you have not received your invitation for the Summer Send-Off, consider yourself invited. This event will be a great event to meet fellow alumni and students from RVA, as well as, to pick up a free MasonRVA t-shirt whether you have one already or not.
RSVP for the 2014 Richmond Summer Send-Off Party for incoming freshmen!Alumni, current students, friends, and incoming Mason freshmen and their families from the area are welcome to attend. This is a great opportunity for alumni and students to share stories about their Mason experience while incoming freshmen can also get to know some of their classmates from the area before they set foot on campus.

Join us in celebrating Mason's newest class!

Contact Information
Primary Contact

Gerica Goodman

Date & Location

Date: August 01, 2014
Time: 5:00 PM to 7:00 PM

Location: Byrd Park-Shield Lake Shelter

600 S. Boulevard
Richmond, VA 23220
If you have any additional questions, please contact Gerica Goodman, ggoodman@gmu.edu.
Upcoming MasonRVA events…
Redskins Training Camp
July/August 2014
Anyone interested?
RVA Brewery Tour
October 2014
RVA is now home to 7 craft breweries in the city and that does not include nearby breweries in Ashland, Goochland, etc. There has been interest in a tour so October seems to be an appropriate month. Like to get some help planning this so let me know if you would like to help.
Rob.