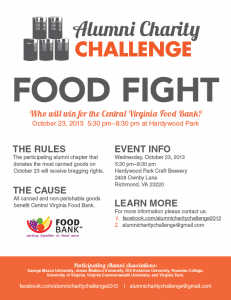 THE CHALLENGE (Alumni Charity Challenge) – Which Richmond area alumni chapter can collect the most canned goods at Hardywood on Wednesday, Oct 23, 2013.
THE CHALLENGERS
@Richmond Hoos – UVaClub of Richmond (University of Virginia Alumni)
Unfortunately W&M and University of Richmond alumni missed the challenge this year due to homecoming conflicts (or
 at least that is their excuse 😉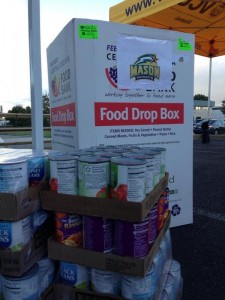 THE PRIZE – Bragging rights.
THE RESULT – Mason Alumni get to brag!
1st Place: George Mason – 1,091 LB
2nd Place: VCU – 602 LB
3rd Place: JMU – 327 LB
If you missed the challenge we hope you will make the event next year!  We are going to need all the help we can get to keep our bragging rights.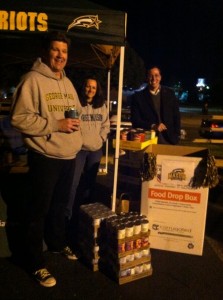 THANK YOU!
@MasonRVA would like to thank those who made it possible to win "Bragging Rights" (sorry if we miss anyone)…
Anna Goltz – the best Alumni Rep ever @MasonAlumni – for driving down from Mason and bringing the tent, the swag, and her husband.  Not sure how you left at 3:30 and got to RVA before 5:30 – probably don't want to know.
Brian Jones @B_R_Jones – for bringing the donations from the friends of MasonRVA from up north.
Elaine Gregory '09 – for her generous donation that resulted in her winning the MasonRVA 1 can – 1 ticket raffle (prize: two tickets for an RVA Brewery Tour)
Tommy Miller and Richmond Brewery Tours for donating to the raffle.
My wife – for supporting me supporting Mason
Next MasonRVA event will be our 2nd Thursday's Happy Hour Nov 14, 5pm-7:30pm at the
Galley in Stra
tford Hills. 
We hope to see your there!
– Rob '88