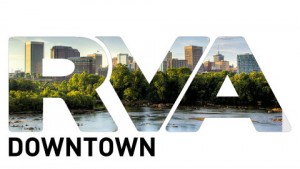 The 2013 CAA Tournament may be the last time the Mason Men's Basketball team will play in a tournament in Richmond, Virginia.  The fact the CAA Tournament may never return to Richmond is bitter sweet for alumni who call Richmond home.  As a Mason Alum who travels to Fairfax for home games, it has been convenient to have the tournament in our backyard and obviously any major event is good for the local economy.  I will admit however that I am looking forward to having an excuse to travel.  I like destination tournaments.
Richmond has not always been kind to Mason fans and I know many alumni are not very fond of our city (I read your comments on other blogs).  I would like to think this is mostly because Richmond was a home game for "that school that must not be named", but I will admit that even the most devout Richmond native will admit the Richmond Coliseum is a bit dated (yes, I am being kind, but the city owes the Squirrels a new baseball park first, so we are stuck with the Coliseum).
If all you know of Richmond is the area between Richmond Coliseum and "that school" and/or do not think much of Richmond for other reasons, I hope you will give the city one more chance this weekend.  I am sure winning will help, but I will suggest some things you might try away from the Coliseum .  You should have plenty of time between when you arrive on Friday or Saturday and when we win the championship on Monday night (Go Mason!).  Besides, you cannot spend all your time at Penny Lane Pub.
Friday Evening
If you arrive in town early enough for Happy Hour and want to impress your date, go to the Jefferson Hotel (4pm – 7pm).  If you are traveling with the kids, I recommend Bottom's Up Pizza for dinner Friday night.
If you fancy a night on the town, head for the Shockoe Slip or Shockoe Bottom or  (no relation to "that local coach").   Start at the Tobacco Company where well drinks are $1 between 8pm – 9pm.  If dancing is your thing, stay.  If you prefer live music, walk down the hill to Sine's (Friday Country, Saturday Rock).
Saturday
I will assume you will either be arriving from out-of-town or sleeping in after a night on the town and will be heading straight to Penny Lane and/or the Spirit Celebration w/ the Green Machine; but if you are up early and need to kill an hour or two, you will have time to visit…
Don't have so much fun you miss the game…
8:30PM – Penny Lane Opens

1:00PM – Spirit Celebration

3:30PM – Mason vs Drexel

6:00PM – Delaware vs Hofstra

8:30PM – James Madison vs William & Mary
At some point, you will need to eat on Saturday night.  One of the things I used to miss about the D.C. metro area are the restaurants.  That is not an issue in Richmond anymore.  If you want a specific recommendation, come see me at Penny Lane before or after the game.  Here are a few of my favorites:
$$$

EAT

 – yes, that is the name (as in let's go to EAT! – short drive < 2.5 mi ** – reservations recommended if you don't like to wait, but EAT is a hip place to wait)

$$$ Seafood – Boat House at Rockett's Landing (short drive < 2.5 mi – great view of the city – reservations recommended) — or for more casual dining w/ no reservations – $$ Conch Republic is next door (great deck and view if temps are in the 60s this weekend)
$$$ Seafood – Rappahannock (walking distance – reservations highly recommended)
$$ Soul Food – Croaker's Spot (short drive < 2.5 mi **)
Brew Pubs 
$$ Capital Ale House (selection & food – walking distance ~ 1/2 mi – live music)

$$ 

Legend's

(local craft beer – short drive < 2 mi)

$$ 

Mekong

 (selection & food – 8 mi)
* distance relative to the Richmond Coliseum.
** location may not win points for Richmond, but the food is worth it.
Sunday
Nothing is better after a night of celebrating than a good brunch and there are many good options in Richmond, but I only recommend one.  Be prepared to wait an hour (or more) – go to Millie's.  What else will you do before heading back to Penny Lane for pre-game?
Sunday Night & Monday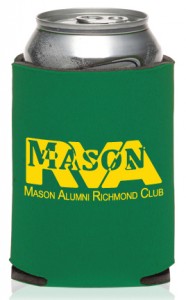 If you plan to stay in town, find me at Penny Lane and I will be happy to suggest more things to do.  I will be the guy with the MasonRVA koozies.
Our goal for this blog is to help Mason Alumni living in, working in, moving to, or visiting Richmond in anyway we can – and – to promote Richmond as great place to live, work, and raise a family (low cost of living, no traffic, great primary and secondary schools!).  I tried to keep my recommendations for this weekend brief, but I plan to provide much more detailed information about Richmond in future posts. I hope you will keep MasonRVA in mind any time you find yourself in Richmond and will stay in touch.
Rob.