@MasonRVA showing the #AlumniCharityChallenge how we do it in #MasonNation and the event hasn't even started yet pic.twitter.com/rWunHb7DbS

— Mason Alumni Assoc. (@MasonAlumni) September 17, 2014
THE CHALLENGE – The 2nd Annual Alumni Charity Challenge
Which Richmond area alumni chapter can donate the most canned goods at Hardywood on Wednesday, Sep 17, 2014, 5-8:30pm.

THE 2014 CHALLENGERS
VCU Alumni**
Richmond James Madison (JMU) Alumni Association**
Richmond Hokies**
ODU Alumni Richmond Chapter**
Roanoke College**
@Richmond Hoos – UVaClub of Richmond (University of Virginia Alumni)**
Radford
Roanoke
VMI
Hampton Syndney
Longwood
Christopher Newport
William & Mary
** also participated in 2013
THE PRIZE – School name added to the Alumni Charity Challenge Cup (and bragging rights).
THE RESULT – Mason Alumni win the cup and bragging rights for the 2nd year in a row!
Champions: George Mason = 1+ TON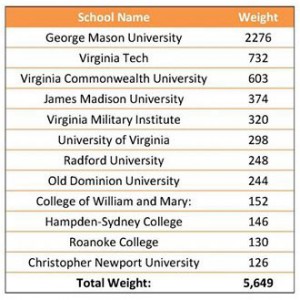 If you missed the challenge we hope you will make the event next year! I know VCU, Tech, and UVA are taking notes (they all visited our tent and asked questions) so we are going to need all the help we can get to THREE-PEAT.
@MasonRVA would like to thank those who made it possible to win the Cup (sorry if we miss anyone)…
Brian Jones '06 (NoVa – for challenging the alumni board to donate over 1,000 lbs of food)
The Alumni Association Board of Directors (NoVa)
The School of Business Alumni Chapter (NoVa)
Gerica Goodman '12 (NoVa – the new best Alumni Rep ever @MasonAlumni – for driving down from Mason, bringing the tent and the swag, and working the tent)
Jen Shelton '94 (NoVa)
Carol Swigart '06 (NoVa)
Jason '93 & Cathy Reis
Chris Clark-Talley (NoVa)
Anna Goltz (NoVa – the old best Alumni Rep ever for her Peanut Butter donation)
Elaine Gregory '09 (RVA)
Kimmy Pollard (RVA)
Sabena Moretz (RVA)
Conaway Haskins III '99 (RVA)
Kerri Chapman '98 (RVA)
Special thanks to…
Elaine Gregory '09 – for her generous donation again this year that resulted in her winning the raffle for the 2nd year in a row! (prize: two tickets for an RVA Brewery Tour).
Tommy Miller and Richmond Brewery Tours for donating to the raffle.
Nicola (my wife) – for supporting me supporting Mason.
Next MasonRVA event will be the long anticipated RVA Brewery Tour. We expect to sell-out, so subscribers to the blog will get the first opportunity to sign-up!
With Mason Pride,
Rob '88