There are three (3) ways to get your free MasonRVA T-Shirt*: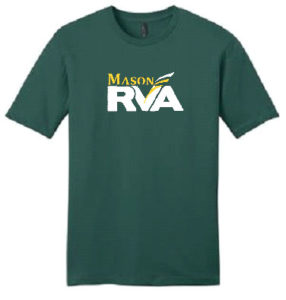 1. Be a Mason student from the Richmond Metro area attending George Mason University.  Send an email from you student email account w/ the year you plan to graduate and your home address to freetshirt@masonrva.com and we will ship the t-shirt to your home in 2-3 weeks.
2. Subscribe to the MasonRVA blog to reserve your free t-shirt (include you size in the comments) and attend a MasonRVA event to pickup it up.
3. Donate $25 or more online to any Mason Fund and email proof of your donation with your mailing address to: freetshirt@masonrva.com.  We will ship your free t-shirt to your mailing address in 2-3 weeks.
The supply of free t-shirts is limited, so don't wait too long to take action! (or you will have to wait for the next batch)
* Limit one (1) per individual.