Saturday, June 10
1 p.m. – 5 p.m.
Ticket to Ride: $20
includes transportation between stops, snacks and bottled water en route, and a signature Mason Alumni beer glass (space is limited, 1 guest per registrant)
Meet Us There: $5
includes Mason Alumni beer glass, check in with us at any point along the trail
Join us for our trek along the Richmond Beer Trail! Take the journey to three local RVA breweries on Saturday, June 10.  Richmond is one of the nation's growing craft brewing regions and there is so much to explore!
Start by meeting at Isley Brewing to begin the tour with introductions, mixing, and mingling. Then hop in the van and enjoy some snacks en route to our next stop,  Triple Crossing Brewing (Fulton). Get to know fellow Patriots and share Mason experiences along the way to our final destination of Ardent Craft Ales and their beer garden.  We will conclude the day by taking riders back to the initial pick up spot.
Attendees will also have the chance to share ideas to help build the local network of alumni with the Mason RVA Club. There are more than 2,200 alumni in the region!
Trail Stops (times are approximate)
Stop #1 –  1:00 p.m.
Isley Brewing
1715 Summit Ave, Richmond, VA 23230
Stop #2 – 2:30 p.m.
Triple Crossing Brewing (Fulton)
5203 Hatcher St. Richmond, VA 23231
Stop #3 – 3:45 p.m.
Ardent Craft Ales
3200 W Leigh St, Richmond, VA 23230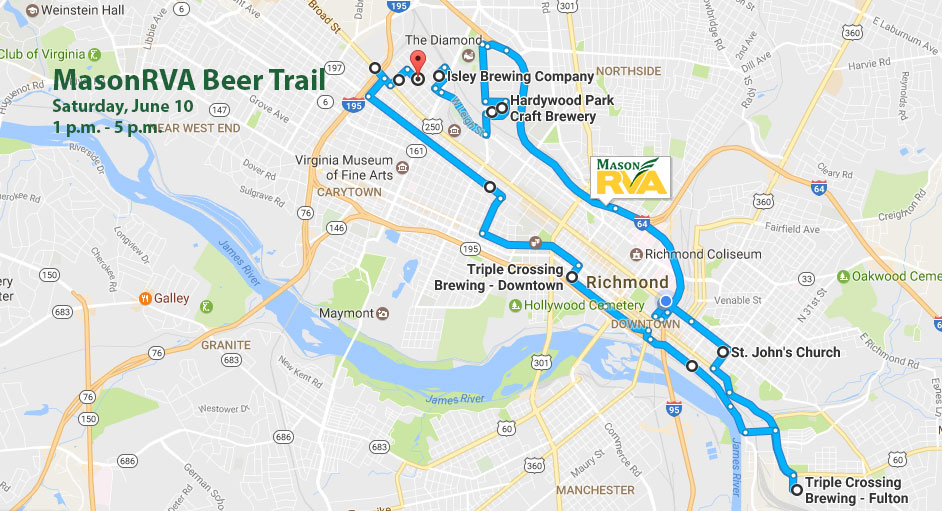 Only plan to stop at 3 breweries, but will drive by 7 more and see some of Richmond's best historical sites!
---
Questions about this event?
Please contact Kendra Walchinsky at 703-993-8737 or kwalchin@gmu.edu