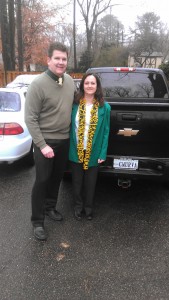 All dressed up and no where to go.
Here is the message from Student Government:
"Unfortunately due to the inclement weather expected in Saturday's forecast we have decided to cancel this portion of the event.  We look forward to cheering on the George Mason University Ceremonial Corps as they represent the best of Mason Nation and celebrate the inauguration of Virginia's next Governor."
I hope to see everyone at the Mason Lobby Day and Legislative Reception.