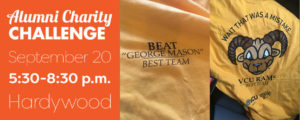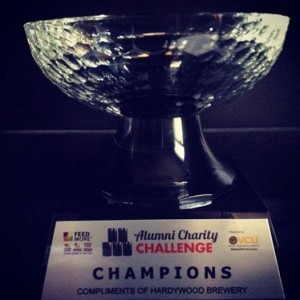 Alumni Charity Challenge – Wednesday, September 20 5:30 – 8:30 p.m. @ Hardywood Park Craft Brewery
This is 5th annual Alumni Charity Challenge and VCU is doing more than a little smack talking (see t-shirt above).   Mason Alumni embarrassed VCU alumni in 2013 and 2014 on their own turf in Richmond (RVA) by donating nearly twice as much food as all other local alumni chapters combined.  This year VCU alumni want break the 2-2 tie with George Mason and claim the "BEST TEAM" trophy for the 3rd year in a row.  Obviously Mason alumn cannot let that happen.
Help Mason this year by bringing non-perishable donations to Hardywood Brewing from 5:30-8:30pm.  The good news is that for the first time if you cannot bring food to the event, you can donate online until 11:59pm September 20 and help Mason Alumni in Richmond BEAT VCU!  Even our alumni friends in NOVA and beyond can help out!
And while you in the giving mood, take a few minutes to visit Give Mason page and make your annual donation of $25 or more (great habit to get into like changing your batteries in your fire detectors when we change our clocks an hour to spring forward or fall back).
And you do not have to register to attend the event, but we would love to know you are coming!
Looking forward to seeing you on September 20th and with your help, lets BEAT VCU! (and the Hokies, Wahoos, Dukes, Tribe, etc.)
With Patriot Pride,
Rob.